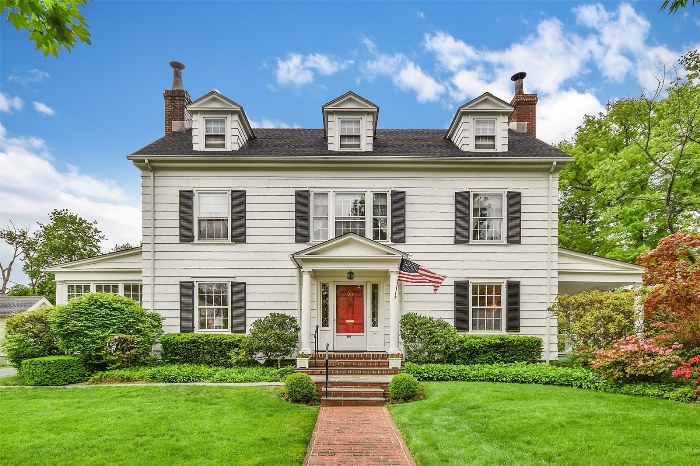 Colonial
Back in the 1600s when Colonial architecture originated, there were many variations of the style due to the diversity of early American settlers. Known for its symmetry, Colonial architecture is most often characterized by evenly spaced shuttered windows. Dormers, columns, and chimneys are also evenly proportioned to complement the formal style.
Contemporary
Some folks consider contemporary and modern architecture to be essentially the same. However, contemporary refers to today's building styles, which can vary in design and appearance. Both styles are similar in that they look to connect indoors and outdoors, but contemporary homes tend to emphasize energy efficiency, sustainable materials, lots of natural light and the use of recycled non-toxic materials.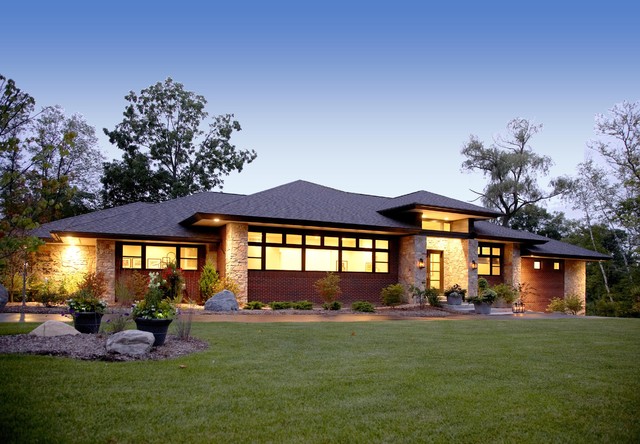 Craftsman
Bungalow and Craftsman style homes were born out of the Arts and Crafts Movement. The emphasis is on natural materials — wood, stone and brick. Wide front porches and low-pitched roofs are typical. The interior's open floor plan features built-in furniture, big fireplaces and exposed beams.
Farmhouse
The term "farmhouse" doesn't refer to style, but rather to location and function. They were originally built on rural land with an emphasis on an agrarian lifestyle. Many farmhouses were modeled after popular architectural styles at the time they were built, such as Victorian and Colonial. However, farmhouses were built for need rather than design, often featuring functional porches as a transitional space creating a much more informal and inviting exterior.
Cottage
Cottages originate from the word "cotters." Cotters were European peasant farmers in the Middle Ages who lived in this style of home. A cottage-style house typically refers to a small home made of stone or wood siding. It features a curved entryway, gravel or brick front walkway and brighter exterior colors. Today, flowers typically adorn the entryway creating beautiful curb appeal.
Victorian
Victorian architecture emerged between 1830 and 1910 under the reign of Queen Victoria and include sub-styles such as Gothic revival, Italianate, Second Empire, Queen Anne, stick style, Romanesque style and shingle style. Constructed more for beauty than functionality, Victorian homes tend to be more complex in design with ornate trim, bright colors, large porches, asymmetrical shape and multi-faceted rooflines.



Tudor
Originating in England, the Tudor style is one of the most recognizable home styles. Best known for steeply pitched, multi-gabled roofs and decorative half-timber framing, Tudors were mostly built in established neighborhoods during the first half of the 20th century. The steep-pitched roofs are perfect for rainy and snowy climates, which is why many of these homes can be found in the Midwest and along the East Coast.

Townhouse
Mostly found in urban areas, the row house, more commonly known as the townhouse, became popular in the early 19th century thanks to limited space and the financial benefits for the architect/builder. Homes built in this manner could go up fast and in a smaller area of land. Practicality dictates row-house design; they are typically two stories or more with a traditional layout, side hallways and minimal lawn space.

Prairie
Developed in the Midwest by architectural trailblazer Frank Lloyd Wright, the prairie style was built based on the idea that a home should serve all practical needs without being overly embellished or showy. It was influenced by the Arts and Crafts Movement and features many of the same concepts such as built-in furniture, simple materials and open floor plans. But prairie-style homes also feature long flat roofs, rows of windows, horizontal lines and organic patterns.


Modern
Modern and contemporary styles tend to get confused. Modern architecture refers to design inspired by the historical art movement of modernism. Most classic examples of modern architecture are more than 50 years old, which makes it a little easier to tell a modern-style home from a contemporary-style home. Open living spaces, clean, geometric lines and function-over-form are key elements of the style.

French Provincial
Inspired by estates of the French countryside, the provincial style came to America after World War I, bringing with it decorative appeal and romantic touches. Today's newer suburban housing developments are incorporating the French provincial style with symmetrical proportions and steep roofs.

Mid-Century Modern
Constructed out of new ideas, mindsets and a forward-thinking style, mid-century modern architecture flourished from 1945 to the 1980s. Characterized by flat planes, large glass windows and open space, the style focused on simplistic design and seamless integration of nature. World War II brought new materials, such as steel and plywood, to the forefront of architecture and design, and helped to enlighten new ways of thinking about residential living.

Georgian
The most common type of Colonial style is Georgian Colonial. Preceding the Federal Colonial style, Georgian Colonial is much simpler in architecture. Like all Colonial styles, Georgian focuses on strict symmetry. It is typically a box shape and is adorned with windows, which are typically five across and shutters. The style also features a paneled front door below a decorative crown, which is usually framed by simple, sometimes flattened, columns.

Dutch Colonial
Originating in the early 1600s, this Dutch Colonial style of house began as one room for early American settlers. Easily recognized by the broad gambrel roof, the style typically features dormers, flared eaves extending over the porch and a decorative hood over the front entryway. It may also have a centered Dutch double doorway, which was originally used to keep animals from entering the home, while still allowing fresh air to flow theough the home. In fact, this house style is also known as a "barn house," because of its striking resemblance to a typical barn.

Art Deco
Art deco comes from a variety of influences: Ancient Egypt, 1930s Hollywood and the tropical pastels of Miami Beach. Typical art deco structures have flat roofs, smooth stucco walls with rounded corners and bold exterior decorations. The style is used more often for office buildings than private homes.

Cape Cod
The first Cape Cod homes were built in the 1600s. They were inspired by Britain's thatched cottages, but built with steeper roofs and larger chimneys to withstand cold Northeastern winters. Windows flanking the front door, dormer windows up top and cedar shingles are also typical of the style. Most of today's Cape Cods were built after World War II; they were the first style used in modestly priced housing developments.

Log Home
Log homes originated as small cabins in the 1600s. Originally, they were built as one room using no nails, but now many log homes function as large luxurious getaways. Log homes can now be built in any location, but are most often found in a rural setting. However, the climate of the surrounding area dictates the type of wood that should be used to build the home.
Mediterranean
Influenced by the area from which it's named, this style became extremely popular in the U.S. from 1918 to 1940. The homes were modeled after the hacienda style, with red tile roofs, arches and plaster surfaces. This style is very popular again and features a lot of the original design elements, including porticos, balconies and ornamental details such as heavy wooden doors and multicolored tiles.
Italianate
Built more out of a desire for ornamentation than functionality, the Italianate style is loosely modeled after the villas of Italy. Most of the homes were built between the mid-to-late 1800s. Decorative corbels, window cornices, doorways and porches can easily identify an Italianate home, as can the rounded windows, columned entryways and rectangular windows.
Greek Revival
Inspired by Greek architecture and democracy, the Greek revival style flourished in America in the 1830s and 1940s. Tall columns and pediments, painted plaster exterior, horizontal transoms, symmetrical shape, bold moldings and embellishments are all key to the style. Large and imposing, this home style is commonly found on large estates and historic plantations.